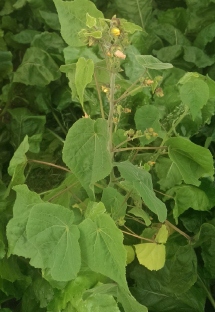 A biosecurity incursion has been found in several South Island fodder beet crops.
Velvetleaf, which is considered one the world's worst weeds of cropping, has been found identified in North Canterbury and Central Otago.
FAR is working with MPI, Federated Farmers, regional councils and other industry groups to encourage all farmers to look out for the weed. It appears the finds are associated with fodder beet crops and MPI is looking at all possible ways the plants could have arrived at the properties concerned.
What to look for:
Velvetleaf is a member of the Mallow family. It is a broad-leafed weed that grows very tall, between 1–2.5m. It has buttery-yellow flowers which appear over summer and autumn. Leaves are heart shaped and velvety to touch.
What to do:
Keep a look out for velvetleaf, especially if you have fodder beet on your farm. It should be easy to spot amongst this season's fodder beet plantings as it stands well above the growing beet and is very distinctive.
If you find velvetleaf, take the following actions:
·         Do not pull the plant out.
·         If possible, take a photo of the plant/s.
·         Mark the location so it is easy to find again.
·       Contact MPI immediately on the Pests and Diseases Hotline – 0800 80 99 66. All calls to the hotline are treated in confidence. Your call will be referred to an MPI incursion investigator who will call you back to make arrangements for collecting the plants.
MPI hopes that with help from growers and industry, they will be able to locate the majority of velvetleaf plants and remove them before they can spread their seed. Once velvetleaf seed falls, it can persist for decades, making control a very long term process.
Full information is available at: www.mpi.govt.nz/alerts
Topic