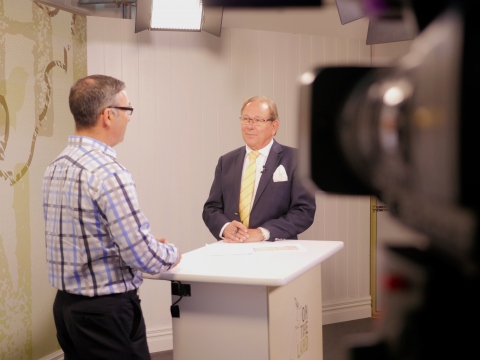 A digital farming show created for the 21st Century celebrates one year on air this week.  The one year show will screen on SKY TV, Channel 83 this Sunday, April 10.
On The Land is different from other information-based shows as it can be accessed in multiple ways – viewed on SKY TV, Channel 83 (FACE TV), via the www.ontheland.co.nz website or through the YouTube channel.
Thanks to On The Land access to current farming information is now available on any screen, anywhere, anytime, with up-to-date information that is short, sharp and relevant and continuously updated.
On The Land is hosted by New Zealand's leading rural commentator, Rob Cope-Williams, with 40 years experience in media, and produced by Tandem Studios (Tandem),New Zealand's largest producer of online video.
Tandem's managing director Dave Dunlay says, "We spoke with farmers about what they wanted, and they said they needed 24/7 access to news and information. And we've done that. What we've achieved this year has been quite amazing. We could not have done this without our start-up sponsors RX Plastics and Lincoln University.
"The rural community wanted the ability to source content on smartphones, tablets or their computers when they have time, in short, sharp pieces. And that's exactly what we've done! The growth and support for On The Land confirms that approach," Dunlay says.
Rob Cope-Williams says "We started the show to take farming information into the 21st Century. I've hosted farming shows for more than 40 years, and this is the first time so much information has been at hand for farmers across so many channels – television, YouTube, our website and Facebook."
The show and website now has a large archive of all things from the land, which has fast become a useful go-to resource for a variety of audiences. Other media are also using the show for information such as a recent Seven Sharp story. (Link to Seven Sharp segment)
Cope-Williams says "It's the only weekly farming show of its kind in New Zealand. What we're doing is unique, and I'm so proud to be part of it and especially the support we are giving to the rural community in these tough times of drought and low dairy prices. The guests we have on each week make the show, especially those I've been talking to for 20 years. Their current information on farming matters is always relevant."
On The Land has an active social media presence and a keen audience. The show's most popular video was Kerry Adams from DAA Chartered Accountants talking about one of our banks forcing people off their dairy farms. 
Looking at the statistics of those watching On The Land online, 52% are viewing it on their computer, 28% on mobiles and 18% on their tablets. And for the past year on FaceTV, Sky Channel 83 Sundays 8pm. Online: www.ontheland.co.nz
A look at this week's anniversary show:
Here is a preview of our one year anniversary show, with John Walley (past president of the New Zealand Manufacturers and Exporters Association) discussing the implications for New Zealand with the Panama Files 
See press release here.