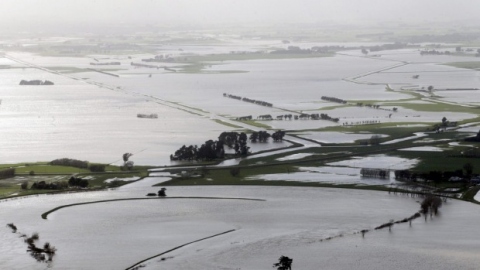 Primary Industries Minister Nathan Guy has today declared the flooding in the lower North Island as being a medium-scale adverse event for the primary sector.
"The Government recognises that this is a difficult time for many in the lower North Island as they come to terms with the damage caused by the recent floods, as well as the erosion on hill country farms," says Mr Guy.
"Last night we received a request from regional leaders for support for the primary sector. Declaring a medium-scale adverse event triggers additional Government support for farmers in these areas.
"MPI will continue monitoring conditions very closely. A recovery coordinator will be appointed to coordinate the activities of local Rural Support Trusts and other industry groups in order to provide help where it is most needed, and to provide a liaison point for government agencies," says Mr Guy.
The areas affected cover the Horizons Region and the Taranaki Region.
"Many rural people can be reluctant to ask for help, but it is important for them to know that support is available," says Mr Guy.
"An additional $100,000 of government funding will be available to local Rural Support Trusts, who work closely with farmers, providing support and guidance.
"The Government also recently announced a $500,000 boost in funding to improve the coordination of rural mental support services, and develop new support programmes and resources for those farmers and communities in great need.
"The Government will be looking to make Rural Assistance Payments (RAPs) available from Work and Income if required. These are equivalent to the Jobseeker Support benefit and will be available to those in extreme hardship.
"Standard hardship assistance is available from Work and Income and flexibility with making tax payments can be set up with IRD through your accountant," says Mr Guy.
The Minister of Social Development yesterday announced that $250,000 of additional funding has been made available for establishing Enhanced Taskforce Green teams who can assist with tasks such as clearing debris and repairing fences.
"The effects of this storm are also being felt in the South Island, where farmers are recovering from heavy rain and snow in places," says Mr Guy.
"Areas of North Canterbury also received their first decent rainfall in months. The South Island Drought Committee continues to meet weekly to ensure appropriate support is in place for farmers and rural communities. These events reinforce the importance of good planning and budgeting, particularly to get through winter," says Mr Guy.
What are the criteria for declaring a medium scale adverse event?
There are three levels of 'adverse events' – localised, medium and large-scale. These can cover events like droughts, floods, fire, earthquakes and other natural disasters.
The criteria for assessing the scale of an adverse event are:
Options available for the community to prepare for and recover from the event;  
Magnitude of the event (likelihood and scale of physical impact), and;
Capacity of the community to cope economically and socially impact.
Photo: Warwick Smith/ Fairfax NZ
Topic
Photo: Warwick Smith/ Fairfax NZ