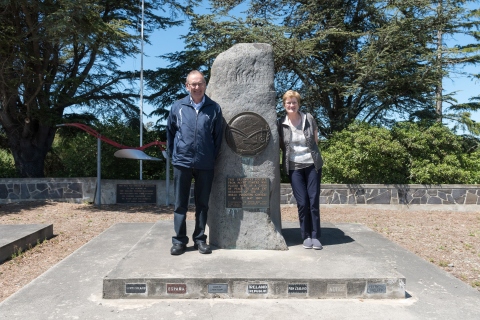 t took Irishman John Somers 35 years and a bit of luck to revisit the Springs Road site of the 1980 World Ploughing Championships at which he won a Bronze medal. The Cairn of Peace commemorates the event with a plaque from each team who competed.
"My memory of that wonderful trip has stayed with me over the years and it has always been my intention to revisit New Zealand and explore this fascinating and friendly country. I had expressed a wish to visit the college and the area of the Ploughing Championships," says John.
"My wife was sceptical about whether this would be possible as I had very little factual information. However the receptionist in our hotel found the appropriate information, together with the bus route, and sent us on our way to Lincoln University. On arrival at the college, the receptionist made a few enquiries, and within ten minutes the university photographer David Hollander arrived at the door, and not only did he know the location of the Cairn of Peace, but he offered to take us to see it!" John says this was the highlight of his visit to New Zealand.
The 1980 competition was John's second time attempt at World level ploughing. He and team mate John Treacy spent the week before the competitions familiarising themselves with new equipment and New Zealand soil. "On this occasion," says John, "luck was on the side of the contestants from the Northern Hemisphere. When the overall marks of both days were counted, Vivian Samuels (Great Britain) achieved first overall (Gold), John Treacy (Ireland) was second (Silver) and I was awarded third (Bronze).  Overall we brought home all nine medals!"
The first World Ploughing contest took place in Canada in 1953. The aim of the competition is to foster and preserve the art and improve the skill of ploughing the land, to foster co-operation in producing food for an increasing world population and to encourage fellowship and understanding amongst the people of all nations.
The World Event has two championship classes, using either a Reversible or a Conventional plough. Each country is entitled to enter a competitor in each class of the contest. New Zealand has previously organised four very successful world events (1967, 1980, 1994 and 2010) with the WPO recently allocating the 75th world event to New Zealand in 2028.
Topic
John and Maureen Summers at the Cairn of Peace