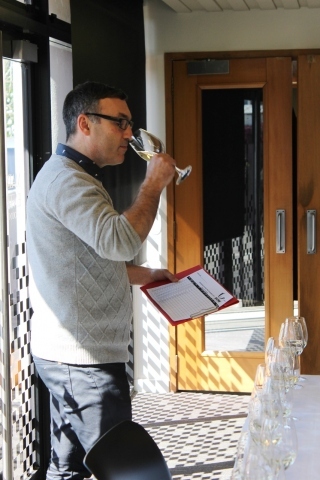 A Marlborough Sauvignon Blanc was named the Supreme Champion Wine in Show at the International Aromatic Wine Competition recently.
The Marlborough Sounds Marlborough Sauvignon Blanc 2015 beat 340 other entries to take the top spot. The Competition, now in its thirteenth year is run in conjunction with the Canterbury A&P Show.
The winemaker, Jeremy McKenzie is the chief winemaker for Pinnacle NZ and Isabel Estate in Marlborough. Mr McKenzie said that the wine will be available in market around Christmas time in New Zealand and Australia. The wine is described as a powerful Wairau Valley Sauvignon Blanc made in a distinctive Marlborough style with aromas of passionfruit skin, boxwood and gooseberry with a lovely salty edge.
Mr McKenzie has worked extensively as a winemaker around the world and was an award-winning Senior Marlborough Winemaker for Villa Maria Estate. He was delighted with the win in a hotly contested category:
"It's always an honour to win a sauvignon blanc trophy as the varietal is such a focal point in New Zealand winemaking and then to take out the Supreme Award on top of that was just fantastic."
Chairman of Judges Terry Copeland was impressed with the quality of wine entered in the 2015 competition.
"The winning wine displayed such elegance and concentration, both hallmarks of the 2015 Sauvignon Blanc vintage from Marlborough, and a worthy winner that should do well in other shows to come.
"2015 is shaping up to be a very good vintage for aromatic wines – there is really good structure and finesse. It's very positive to see wines of one to two years of age also showing strongly which sends a message to consumers that you don't just have to drink wine from the current year.
"Compared to other years, the judges saw wine made at the highest level across more styles per grape variety which shows how the New Zealand wine industry is maturing."
Mr Copeland said that rose wines were accepted for the first time this year.
"It was fantastic to have the aromatic rose classes in the Competition this year. The wine showed a lot of serious grape growing and winemaking for this style, giving consumers a real choice this summer."
He also noted that a lighter alcohol wine received a gold medal – a relatively rare occurrence.
"Often light alcohol wines are not well rewarded in wine competitions so it's really pleasing to see the quality of the Clark Estate Riesling Block 8 2015 coming through."
Mr Copeland led a panel of experienced judges for the rigorous testing process: Jack Glover (Accolade Wines), Kate Radburnd (CJ